Dear Future Millionaire,
If you're like millions of other World of Warcraft players suffering from a gold shortage then you've come to the right place.
One of the most common complaints I hear is that players are always running out of gold. They don't have games for epic mounts, repairs, gems, or epic gear. They are just plain broke.
Many of them resort to looking through forums for gold farming tips and hints. They spend countless hours reading and trying only to find that the gold tip they read is out of date or is no longer working.
There's nothing more embarrassing then riding around on "newbie" mounts when everyone else has the best mounts money can buy. It's not only the fact that being poor in game can be embarrassing but let's face it, if you have crappy mounts or crappy gear, it takes longer to farm for gold and you'll find yourself having problems killing enemies or even dying which costs more gold in repairs.
The list of problems caused by having a shortage of gold is endless. Gold is absolutely necessary if you want to be the best and have the best.
I Can Help You!
You read that right!
I can help you get everything you want inside of World of Warcraft, I've already helped thousands of players just like you.
You may be surprised to learn that some of your rich guild mates have already used my system with great success. Of course, they won't help you or tell you how they got rich — and why should they?
If everyone was rich then it kind of takes some of the fun out of being rich right?
If everyone had epic mounts and epic gear then no one would be special or better than anyone else. It's human nature to be better than your peers, no one wants to give away their secrets, not even your closest friends!
You're here today because you want to make more gold than you can spend and be better than everyone else.
You're here because you want to be special and have the best.
You're here today because you're tired of sucking or being picked on and called names in game.
You're here because you're tired of getting kicked out of group for having bad gear.
You're just tired of everyone else being better than you and it's about time you do something about it!
Everyone deserves a fair chance and everyone should have the same opportunities.
Today is that day for you.
Today I'm giving you the chance to have the same opportunity to get rich like so many other World of Warcraft players — it's your time to shine!
I Used To Beg For Gold…
I can't lie to you, I used to be that annoying guy that would walk up to you by the auction house and ask you to give me 20 gold.
I was the poorest noob in all of Azeroth.
I had no gold or gear.
I had no mounts — in fact I spent over half the game walking everywhere I went because I couldn't afford a mount.
Like you, I spent hours on the internet, using google, scanning forums, and more just looking for advice on gold making.
Like you, I continuously thought I stumbled upon a secret method only to find it had been posted 5 years ago and didn't work any longer.
Like you, I began to realize that World of Warcraft is changing all the time and by the time you find any gold tips online they are already over used or no longer working.
Heck some of the gold tips I found were only two weeks old and no longer worked because of a patch.
I started to realize that in order for me to make gold I couldn't rely on others to post their strategies in forums — remember, no one else really wants you to be rich or have what they have.
These strategies were oftentimes inaccurate or incomplete, sometimes they didn't even work and were posted only as a joke to see who would actually try them.
Like you, I got sick of it.
I decided to take control of my World of Warcraft fate. I realized that World of Warcraft is only a game and I should be able to have as much fun as everyone else.
I began playing on private servers and the beta server. I began using the auction house heavily. I took what I learned and I brought it to a live server. Within a few months I had reached the gold cap. So I made another character and repeated what I did…same result, gold capped again.
After perfecting my strategies I decided that I would now do what no one else had ever done — give them away to anyone who would listen.
Why would I just give them away?
Because I know what it's like to be poor and not be able to afford things. I know what that feels like and I don't want you to have to go through what I went through. Yes, World of Warcraft is "just a game", but I've learned that it's MUCH MORE FUN when you have the best stuff in game.
Other than that, I have so much gold that I've already bought everything I could, it doesn't bother me if you become rich, I want you to enjoy what I've gotten to enjoy.
I compiled everything I know into over 200 pages broken down in 9 easy to use Modules. The most important thing though, is that I continue to update my strategies so every strategy in these 200 pages is always working.
Introducing The Secret Gold Guide…
Updated Weekly
100% Legal
No Cheats or Hacks
Weekly Gold Tips
Personalized Email Support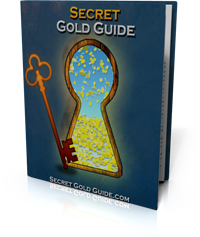 Detailed Maps & Instructions
Secrets for ALL Levels
Works for Horde & Alliance
Over 15 Bonuses Included
100% Satisfaction Guarantee
The Secret Gold Guide Comes In 9 Easy To Follow Modules
| | |
| --- | --- |
| | Module 1: 11 Addons You Can't Live WithoutMaking Gold with Addons is the new hot thing in World of Warcraft. To really become great at making gold, YOU NEED THEM! But you can't just install them, you NEED TO KNOW HOW TO USE THEM PROPERLY! There are 11 of them that you don't want to do without. I'm not only going to tell you what they are but also I'm going to show you how to use them to unleash their full power to get rich! |
| | Module 2: The Auction House Made EasyKnowing how to use the Auction House and Mastering the Auction House are two completely different things. The difference between the two reflects entirely on how much gold you have. If you have a lot of gold then you've probably mastered it, if you don't, then you need to get this to Learn to Master it. In this module I cover some of the best kept Auction House Secrets used by the pros. |
| | Module 3: Get Paid to GatherGathering is one of the best and easiest ways to make a lot of gold but most people have no idea how to do it efficiently. This module will cover the best items to gather and where to gather them in complete detail with maps. You'll always know where the best farming spots in the game are. Gather and watch your gold pile grow! |
| | Module 4: Crafting Your Way to Thousands A DayOver the last few years I've spent time developing a system using crafting professions that allows you to earn thousands a day by only spending 20 minutes or less in game. I will show you exactly how to do it in this module. You won't find this information anywhere else. |
| | Module 5: Fishing and Cooking Your Way To ProsperityFishing and cooking is one of the best ways to make gold that is often overlooked. I'm going to show you with detailed maps the best places to fish and the best things to cook. Using this information will allow you to make a ton of gold. |
| | Module 6: Farm and Grow RichFarming can be simple, fast, and fun if you know what you're doing. This module includes maps and details for the best farming spots in game and which items you should be farming. Don't waste time on anything else if you're going to farm. And don't let others fool you, you can make an insane amount of gold with farming. |
| | Module 7: Quick and Easy Instance FarmingInstances farming is by far my favorite way to make gold because it's so fun! This module covers what instances are the hottest to farm to make the most gold. Complete walkthroughs are provided and they let you know how much you should be making in each instance. |
| | Module 8: A Guide To Making Gold Before Level 85Here you'll learn everything you wanted to know about making gold before level 85. This precious module is missing from most other gold guides that only focus on being max level. Not only do I cover it, but I tell you how to get rich before you're max level. |
| | Module 9: Making Gold for Fun and ProfitYes, contrary to popular belief, there are miscellaneous ways to make a lot of gold that are really fun. This module is a compilation of some of the most unique gold making ideas and how to properly implement them so they work for you. |
Learn All Of This And More!
How to find all the HOT DEALS on the Auction House that others don't know about (I find it funny that most people think they know how to use the Auction House, but once you read my guide, you will be ABSOLUTELY AMAZED at what you didn't know).
How to get money for your mounts, whether you're level 20, 40, 60, 70, 80 or 85 and getting a regular land or epic flying mount. What I reveal to you in this guide will always leave you with plenty of gold to buy your mounts (no more hitchhiking).
Common gold making mistakes other players make and how to avoid them (some of these are really common sense but people still do them for some reason).
The hottest selling items for each profession and how to make tons of gold off these items whether you crafted them or not!
The best places to mine, herb, and skin. I'm not going to lie to you, this comes with full routes and detailed instructions. You will MAKE gold using them.
How to use addons to make gold farming easier (no these aren't hacks they are Blizzard Approved addons that most players don't even know exist)!
Unique ways to make gold that other players don't even realize exist.
How to identify the next hottest items and have them up for sale in the Auction House before anyone else even thinks about it!
Ways to manipulate the Auction House so the items you sell, ALWAYS SELL, and for the PRICE you choose!
How to make TONS of gold off any profession, no matter which ones you have! (yes a lot of people aren't even using their profession they already have to make a TON of gold because they don't know how. I'll tell you exactly how in my guide!
How to make hundreds of gold while helping other players at the same time you are farming!
Know which daily quests are worth doing, what ones aren't, and learn what order you should do them in to maximize your gold!
How to quickly identify which items are worth farming and the absolute best places to find them!
And MUCH, MUCH, MORE! So much more, that if I put it all in this box you'd still be here reading it tomorrow.
Having these 9 modules will make your life so much easier in World of Warcraft. You'll be able to join thousands of other players who've used the Secret Gold Guide to get mounts, gear, gems, special pets, and so many more cool things. Heck you could even pay all those noobs a few hundred gold to run errands for you in game.
If you want to become filthy rich, get this guide.
What Others Are Saying
The Secret Gold Guide has been the most trusted source for Gold Making information since its release. Because of it's high quality and usefulness it has built a reputation and earned respect with the World of Warcraft Community. Below you'll find some of the things people have said about the Secret Gold Guide.
"I would very strongly recommend Hayden Hawke's Secret Gold Guide to anyone who really wants to make the most in their World of Warcraft Economy, be they a casual player or hardcore gamer."
- Adrian
"This product changed the way that I play the game forever…!"
- Kyle
"It is by far the best thing I've found for making gold!"
- Tyson
"I would definitely recommend this guide to a friend!"
- Bre
"You wouldn't operate on somebody without reading how to do it, so maybe a guide would help… now I have more time to play than worrying about getting owned."
- Josh
"Without this guide I would have never achieved as much as I have!"
- Scott
"Thank you for making WoW more enjoyable!"
Thank you for this amazing site, I really appreciate all the time and effort you guys put in to making it so easy and enjoyable to use. I made a ton of gold and my characters lvl up so mucher faster using the guides then without them. Thank you for making WoW more enjoyable!
- Mitch
"I made 8,000 gold in less than an hour, with almost NO work involved."
I want to say that I purchased your guide this afternoon, and I am not even done reading through the first few sections of the auctions guide. I took one of your tips today and went for it, and I made 8,000 gold in less than an hour, with almost NO work involved. I cant wait to see what else it has to offer, but I'm expecting I will be quite rich in not too long a time! Thanks!
- Geoffrey
"it helped me make enough gold to pay back my friend and even start earning some for myself."
First off I wanna say that your guide truly did help. I was in my 3rd week playing the game and my friend kept loaning me money for mounts/gear things like that. I knew I had to pay him back at some point and just wanted a few pointers on how to make some gold to do that. What I got from your guide was MUCH more and I was able to pick out a few ways that helped me make enough gold to pay back my friend and even start earning some for myself. So just wanna say Thanks for all that!
- John
"I'm so impressed by your guide! Ive already made a few hundred gold.."
I'm so impressed by your guide! Ive already made a few hundred gold and am waiting for price info to resell items I brought cheap! The addons and advice you offered in your guide are awesome! I made a new char and managed to make 50g just from items I gathered getting to level 10. Thank you soooooo much for your awesome guide!!
- Chris
I Guarantee It Will Work For You
100% Satisfaction Guarantee
You'll be protected by my 60-day 100% satisfaction guarantee. If you are not satisfied with my guide for any reason you can receive 100% refund with the click of a button.
Free Gifts When You Download Today
Secret Gold Guide Updates
Receive instant online 24/7 access to all Mists of Pandaria updates to the guide. This will ensure you are prepared and on top of your game. You will be able to access the guide at any time of the day and will be the first to read about any updates. This will put you a step ahead of any player not currently a member.

Weekly Gold Tips
Receive access to my weekly gold tips sent via email and posted in the members area. There are over 100 gold tips in the members area and a new one gets added each week. I'll send you information on how to profit from the next patch, next expansion, upcoming holidays, or what's hot that week.
Personalized Support
Receive personalized support from me (Hayden Hawke!) so that if you are having any issues or questions about my gold making strategies I can personally assist you.

Crafter's Compendium
Receive instant online 24/7 access to my Crafter's Compendium which shows the best ways to level alchemy, blacksmithing, enchanting, engineering, inscription, jewelcrafting, leatherworking, and tailoring from 1-525. This will ensure you never waste a minute of your valuable time (or gold for that matter) leveling up any of crafting professions.

Herbalist's Handbook
Receive instant online 24/7 access to The Herbalist's Handbook, an herbalism guide designed to show you how to level your herbalism as fast as possible from 1-525. You will get access to 22 routes, detailed in maps which will help you level up herbalism faster than ever before.

The Miner's Companion
Receive instant online 24/7 access to The Miner's Companion, an essential guide for anyone seeking to level up their mining from 1-525. The guide contains over 20 detailed maps and routes and includes a smelting section for leveling up incredibly fast.
Tom's Power Leveling Guide
Receive instant online 24/7 access to my friend Tom's Power Leveling Guide which will teach you about all the types of power leveling, help you get your character to 85 fast, show you leveling hot spots, explain which classes are best for each type of power leveling, and teach you how to boost your experience before you even start.
WoW Acronyms and Abbreviations Cheatsheet
Receive instant online 24/7 access to my WoW Acronyms and Abbreviations Cheatsheet, which will teach you the meanings of frequently used WoW Acronyms so that you can you can communicate quickly with others and sound like a seasoned pro.

Dual Boxer's Guide
Receive instant online access to The Dual Boxer's Guide, an excellent guide that will teach you what you need and how to play two characters at once to save time and level super fast. There's also information for system requirements, setting up dual boxing macros, and effective dual boxing methods.
What More Could You Ask For?
At this point:

You've seen what's in my product
You realize how rich it can make you
You've heard the success stories of others
I've guaranteed it
And I'm throwing in Free Bonuses
If you're looking to make a lot of gold in the next few days it only makes sense to get started immediately by clicking the link below to get instant access!
Don't Make The Same Mistake As Others
If you're still reading let's talk about some of the myths people believe that stops them from becoming rich in World of Warcraft.
As attractive as the Secret Gold Guide is, the marketing experts have told me that only about 1% of the people who come to this page will respond to this amazing offer.
Although those numbers are okay from a business standpoint, it still bothers me personally because I know how much the players using the Secret Gold Guide have benefited from it.
I read their emails and interact with them in game and thousands every year tell me in their own words that:: "They are so thankful they got the Secret Gold Guide"
Here are just some of the reasons people have thanked me:
It's so easy to use
It saves them a lot of time
It saves them a lot of money
They're so happy they get to buy all the cool gear and mounts that they want
They've made so much gold they can't even spend it all
Because of this I just HATE the thought of someone not getting the Secret Gold Guide because of some error or omission in our explanation.
That is why I called together a special brainstorming session with a group of people just to try to figure out WHY you might say "no" to our 60 day free trial and risk free money back guarantee.
After several hours, our group could think of three primary reasons.
It's a Scam or Ripoff
The Secret Gold Guide is sold through ClickBank.com. It is literally impossible for there to be a scam sold through ClickBank.com. You could get a poor product, sure, but clickbank offers a 60 day return for full refund policy, no questions asked, so you could return any product you didn't like.
Clickbank was founded in 1998 and is the web's most trusted digital marketplace. It has an inventory of more than 50,000 digital products and over 100,000 active affiliates. A sale is made somewhere in the world ever 3 seconds through clickbank. Clickbank safely processes over 30,000 digital transactions a day and serves more than 200 countries.
Ontop of that, The Secret Gold Guide comes with a risk free 60 day trial and full money back guarantee as well. The Secret Gold Guide was created in 2009 and has been the leading name brand and most trusted gold guide for over 4 years selling more than 25,000 copies world wide.
So ontop of The Secret Gold Guide's guarantee you also get a double guarantee from Clickbank to refund the product, no questions asked, for 60 days.
I'm sorry to let all of you skeptics down, but it's just not possible to scam or rip anyone off through clickbank.com and it's also not possible to be in business for over 4 years.
The Secret Gold Guide is the real deal!
All of This Information is Vailable For Free On The Internet
In today's day and age, everything is available for free on the Internet it seems. The problem is finding something you can trust.
You can learn how to build a car, build a shelf, or run for president for free on the Internet. I don't know about you, but I'm the type of person that wants to have the actual manual in front of me when I build something. I'm not likely to trust random information on the Internet when I go to build a car.
For these very same reasons it makes sense to have the gold making manual in front of you when you go to make gold. The Secret Gold Guide is that manual and was created for that specific purpose.
We have demonstrated in the video how hard it would be to replicate even a small segment of the Secret Gold Guide by searching the Internet, not to mention the countless hours spend sifting through out dated gold making strategies that no longer work.
It's not worth the time to run around searching the Internet when you can have access to every updated gold making method known to the game sitting right in front of you. Complete with full detailed instructions, maps, and tested by your peers and updated by our gold making team.
We've done thousands of hours of testing and research and compiled it all for you to use. We've done the hard work for you, all that's left is for you to sit back and make some gold.
It Costs Too Much
If you're spending more than a few hours researching gold making strategies than you're already out more in terms of real money than the Secret Gold Guide costs.
Everyone who works makes at least minimum wage (around $7 if you're in America). After 3 hours of researching or testing a strategy that's never going to work, you're already down $21.
We've already spent thousands of hours researching and testing these strategies so you don't have to.
Don't spend unnecessary time and money "reinventing the wheel".
You can also buy gold online. It's not legal and I don't advise that you go and buy gold but we can draw a comparison for how cheap the Secret Gold Guide actually is by looking at how much buying gold online costs.
The going rate for 20,000 gold is about $31. If you buy gold you run the risk of getting your account banned or information stolen.
There are strategies inside the Secret Gold Guide that teach you how to make over 20,000 gold an hour.
So every hour you're saving yourself $31 and this makes the Secret Gold Guide priceless, practically getting all this great information for almost nothing.
There's an old saying that says:
"Give a man a fish he'll eat for a day, teach a man to fish and he'll eat for life."
This advice extends passed wow, once you understand gold making in one online RPG you'll be able to do it in others.
This isn't just about World of Warcraft, you'll get knowledge for life in any online RPG that comes out.
This is why it pains me so much to see players passing up this amazing chance to own the Secret Gold Guide. There's so much in it for everyone.
Conclusion
I would hate to see you pass up on this amazing offer when it's helped so many other players reach their goals in World of Warcraft. It's a risk free opportunity to get whatever you want in the game.
60 Day Personal Hayden Hawke Guarantee
60 Day Clickbank Guarantee
Over 25,000 Satisfied Gamers
60 Day Risk Free Trial
Lots of Testimonials and Reviews From Other Gamers
Most Popular and Best Selling Gold Guide since 2009
Voted #1 Best Guide at Almost Gaming
In a recent poll conducted by Almost Gaming, the Secret Gold Guide took 1st place with 44% of voters calling it the best gold guide, while the 2nd place one had only 20%!
Reminder:
This guide is compatible with both PC and Mac.
This transaction is 100% secured, all of your personal information is encrypted and protected.
I do not need nor will I ever ask for your World of Warcraft account information.
You will be able to access this guide 24 hours a day 7 days a week.
Please do not share any of the secrets in this guide. (There's plenty of gold to go around for our members, but if everyone knows the same secrets, they aren't really a secret anymore.)
I know by using my guide that you'll be able to make all the gold you'll ever need. Thank you for taking the time to hear what I had to say, and even if you don't buy today, don't worry…you'll come back…they always do.
Sincerely,
P.S. If you buy gold instead with your money you'll not only put your account at risk of being banned, but once you spend it, you'll have to buy more or come back and buy my guide. So don't waste your money in the first place and buy my guide today, you'll come out ahead in the long run.
P.S.S. Why are you still reading this? The access area to my guide is up above. seriously…the bonuses alone are worth a lot more than what I'm asking you to spend today!
WoW-Professions.com Approved
The Secret Gold Guide has passed the scrupulous and intense examination of WoW-Professions and is now the #1 recommended gold guide to its site users looking for ways to make gold in World of Warcraft.
---
World of Warcraft©and Blizzard Entertainment© are all trademarks or registered trademarks of Blizzard Entertainment in the United States and/or other countries. These terms and all related materials, logos, and images are copyright © Blizzard Entertainment. This site is in no way associated with or endorsed by Blizzard Entertainment©.
This is not a copy of Blizzard's official World of Warcraft© strategy guide.
Contact me at hayden@secretgoldguide.com